Com4AgriPlant, funded under the European Commission's Erasmus+ Programme, is a two-year project that brings together 6 partner organisations from 5 countries (Slovenia, Greece, Italy, Spain and Lithuania) in an effort to encourage sustainable behaviours in the fight against climate change through the promotion of plant-based agriculture (biocyclic vegan agriculture) and vegetarian diets in adult education.
Com4AgriPlant includes research and development of an innovative educational methodology and lifelong learning opportunities on plant-based agriculture (biocyclic vegan agriculture) and vegetarian diets using comics and illustrated stories.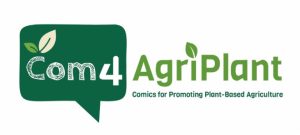 Partners
GEOSS Educational Centre, Slovenia
Association Caminos, Spain
Xwhy Agency of Understanding, Lithuania
Agricultural Institute of Slovenia, Slovenia
Land social enterprise, Italy
Euracademy Association
What is plant-based agriculture?
Plant-based agriculture, or biocyclic vegan agriculture, is a type of agriculture that focuses on the cultivation and crop production for food, fibre, fuel and other uses exclusively for human consumption and not for livestock farming.
It is based on the principle of using plant resources and excluding or minimising the use of animal resources, and can be applied to both small-scale and industrial farming.  It incorporates a range of sustainable farming practices, such as crop rotation, soil conservation and organic farming.
Project objectives:
Offer new lifelong learning opportunities in the fields of plant-based agricultureand vegetarian diets.
Research on new ways and alternative methods for producers and consumers to contribute to the fight against climate change.
Encourage the use of comics and illustrated stories as tools to enhance the effectiveness of adult education.
Mapping local and European strategies and policies around education, focusing on the agri-food system.
Activities:
Research by project partners on lifelong learning opportunities and local/European strategies to promote a vegetarian culture.
Development of educational tools by creating a comic book library and other innovative tools as new means for educating and promoting a green culture and attitude.
Development of a Training Course for trainers, educators, and professionals in the fields of plant-based production and consumption.
Creation of a free and open e-learning platform for independent learning, integrating all the learning material that will be developed during the project.
Results
Report of research findings on promotional strategies and learning opportunities in Europe in the field of plant-based farming (biocyclic vegan agriculture) and vegetarian diets.
Learning Methodology and Toolbox for adult educators based on comics
Training course
Open e-learning platform with educational material.